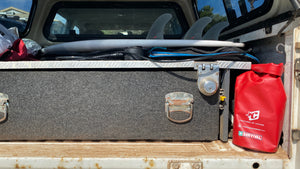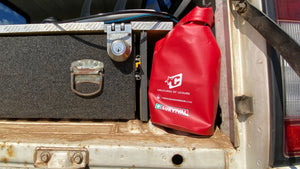 Creatures x The Ocean Warrior x Survival
FIRST AID KIT
Fin slices, reef rash, jellyfish stings. The list of injuries surfers rack up each year is longer than a Mal. We've curated a first aid kit with Professional Big Wave surfer Mark Visser from The Ocean Warrior for those of the salty persuasion.
This is the perfect safety tool for surfing, fishing, boating and anyone that spends time in and around the water. This special lightweight KIT fits perfectly in a small compartment on a jet ski, boat or in a backpack. It is made to float and contains everything you need to keep you safe on the seas.
Designed in Australia in collaboration with Mark Visser and Survival, this first aid kit brings expert knowledge and on-the-ground know-how and offers effective treatments for a quick response to first aid situations.
The highly visible red dry bag is made of tough, water-proof coated 600D Oxford polyester. It includes handles that are double stitched and sturdy zippers.
The numbered labelling system lets you know how many of each item you should have on hand, notifying you when replacements are needed and indicating when you should restock.
Be prepared wherever your adventures take you. We highly encourage you to watch the full tutorial of practical uses. The more aquainted you are with the kit, the more prepared you will be when you need it!
"It is super light! Everything is so easy to access, and it floats, so you can put your keys, your wallet, whatever you want inside and you know it's safe."
-Mark Visser, Professional Big Wave Surfer