HardWear - Built For Adventure(s)
Adventures don't need much. The will to give things a crack. A few friends. Some essential tools. Something to carry things with. That's it. 
As world longboard champ and explorer larrikin, Harrison Roach says:
"…adventure isn't really this grand-scale idea — it's something that's accessible to everyone, everywhere. It's about having a go at something and having a good time."
But, what you do take, needs to hold up to a bunch of challenges - mud, sand, salt, water, cold, heat, wind, waves, no waves, knocks and scrapes. They need to be versatile too. Able to adapt to whatever weird tricks the road throws at you. 
Creatures HardWear Collection is built for that rugged durability. Boardbags and leashes which nod to the dependability of a tradesman work ethic, adding extra confidence when searching for surf down less-beaten tracks.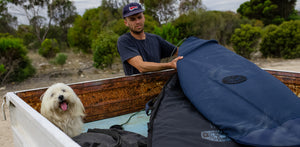 Harrison and a mate. Photo: sarips
Harrison has put these things to the test consistently. From remote, dusty deserts, to craggy limestone coastlines, to the freezing Aleutian Islands and tropical Javanese jungles. Every time they've stood up to the test, taking a variety of abuse. The covers adapt to fit mid-length, wider fish dimensions (or even Longboard Specific covers). There's also canvas board socks for lightweight grunt.
"It's a fun part of travel and adventure, making sure that before I go I've thought through everything and I've got the right stuff for whatever we're up to," adds Harrison. "When you're on a bouncy dirt road on a motorbike in Indo somewhere and you have a snug little board bag that fits the rack, with the right surfboard for the trip, everything feels great. It's exciting for me."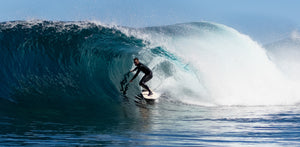 Empty tubes await those willing to find 'em. Photo: sarips
Depending on the adventure, you might want just a mid-length boardcover, or maybe something to carry three different crafts. Whatever it is, every piece includes the solid features the HardWear collection is known for, including tough canvas and DiamondTech materials, 5mm closed-cell foam padding, plus corrosion-resistant zips.
To fully explore the Creatures HardWear Collection, head here.
Or, for some inspiration, dive into Harrison's latest adventure Garden Variety.
"I had two trusty leg ropes, they are the 7ft military and navy ones that I always use and have never broken. I also had one of the midnight 6'6" board bags, which I was using as a double, with the midnight canvas bag on a shorty inside of that. And Doddsy had the 6'6" military one. Those bags are absolutely perfect for day to day travel on the road."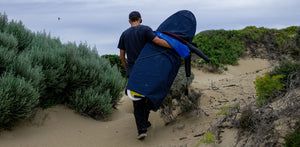 Harrison in South Oz. Photo: sarips